LatinaSeattle.com is a casual, educational, informative, fun, and family friendly website destination for Latino Spanish speakers/readers residing, visiting or planning to move to Seattle or other areas in Washington state. It is aiming to become an online and popular digital destination serving the Latino community by (among other things) supporting immigrant's projects, providing critical resources for a better living and education, and by adding a Latin touch that unites and enhance Latino families in the Northwest.
As a digital communication media serving and targeting the Latino consumers, In Latina Seattle we look to integrate and share available resources for cultural support, personal and professional development, Latino community improvement, entertainment and much more. We closely connect with the Latino audience residing and visiting Washington state.
Download our current media kit.
Few of LatinaSeattle.com stats from the last 8 months report.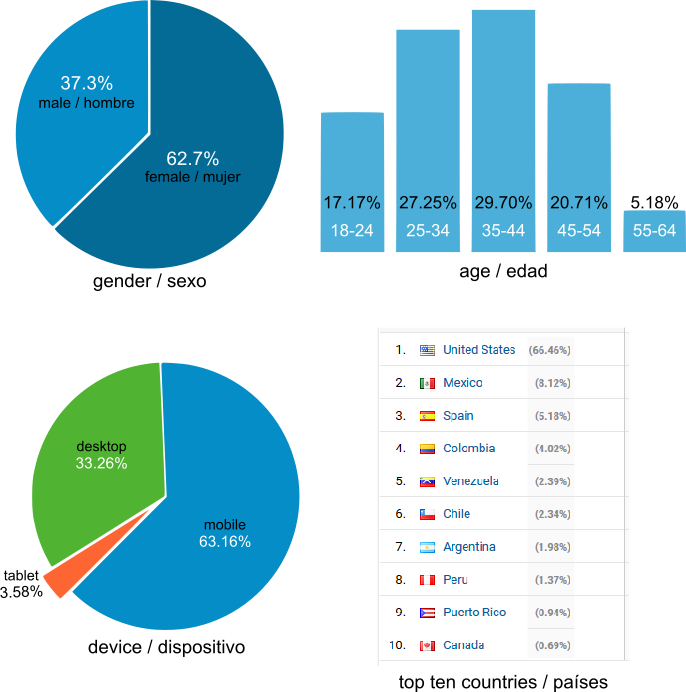 Advertising in Latina Seattle mobile responsive website include the following opportunities:
Display Advertising
Mobile Advertising
Content Integration/Advertorials
Blog Sponsorship/Sponsored Posts
Social Media Promotion
Display Advertising
Home Page:
Medium Rectangle 300×250 – Featured section, above the fold.
Most content and internal pages:
Medium Rectangle 300×250.
Half Page Ad 300×600.
WideSkyscraper banner 160×600.
Leaderboard banner 728×90 – Prime placement either in header or footer of articles and posts.
Mobile Advertising
Home Page:
Medium Rectangle 300×250 – Featured section.
Most content and internal pages:
Medium Rectangle 300×250.
Large Mobile Banner 320×100.
Content Integration Advertorial
If your organization, or your client, provides resources, products, services or any other content that fit our Latino community interests, at LatinaSeattle.com we can design a full strategic page to host your content withing our site linking back to yours. There is a minimum commitment of 3 months and a setup fee applied once.
Sponsorship Posts and other multimedia content
LatinaSeattle.com blogs, channels and categories are open to sponsored your posts, articles and multimedia content pertaining to informational products, invitations to try resources available, educational tutorials, entertaining tips and tricks, among other topics, geared primarily toward the Latino Community in WA (visiting or residing).
Social Media Promotion
LatinaSeattle.com provides social network promotion for our direct advertisers. We have a growing social media community presence in Twitter, Facebook and Instagram.
For more information to advertise in Latina Seattle, contact us at equipo@latinaseattle.com or by phone at (206) 659 8434.
---
Versión en Español.
Estamos trabajando en la información en Español actualizada.
Para más información sobre publicidad con Latina Seattle, contáctanos hoy a través de equipo@latinaseattle.com o llamando al (206)659-8434.